Fort Débrouillard
What types of challenges are involved?
Challenges during our events are recreational in nature, where pleasure outweighs performance. Most, require a team effort.
How long is each adventure trail?
The longest adventure trail takes approximately 6 h 30 m to complete. Add an extra 15 minutes before start time (preparation) and 30 minutes at the end (showering and change of clothes).
Do your prices include lunch?
No. You may, however, enquire about the possibility of reserving catering services.
Should I train to be in shape before I show up?
Absolutely not! A good night's sleep is all that is required.
How many must we be to reserve a day of fun at Fort Débrouillard?
A minimum of 8.
What are the requirements to form a team?
Ideally, teams should be made up of 4 or 5 participants.
How many adventure trails are there?
We offer two adventure trails : the Rover and the Original. Each can be modified and adapted to the needs of particular groups.
Are there new events within each adventure trail?
Yes.
What happens in the case of bad weather?
A heavy thunderstorm may delay the regular course of a day's events although rain itself won't. Many participants see rain as an additional challenge, while others enjoy its refreshing effect!
Are staff members trained in first-aid?
Yes, all staff members are trained in first-aid, but, even more important, they are strategically placed along your route to prevent accidents from happening. In the event of a mishap, staff members follow clearly defined, well-drilled emergency procedures. But you won't need to sprain your ankle to get to know our very competent and friendly staff!
Given that our group will be divided into several teams, will participants from my team get to meet up with members from the other teams?
Yes! At the start of the day, during the noon hour, at the end of the day and at certain points throughout the day's events.
How should I dress?
You should have two sets of clothes including shoes and underwear: old outdoor clothing to be worn for the adventure trail i.e. clothing that you don't mind getting wet or full of mud and a fresh set of clothes to change into at the end of the day.
Who are we competing against?
You will be competing against all the other teams taking part in the events at the same time.
Should I be weary of strange animals or insects?
No. However, certain staff members have been described as such!
Are there any age limits?
Our adventure trails are recommended for participants 7 years old and above.
Will I be able to shower and change clothing at the end of the day?
Yes. Outdoor makeshift showers are available along with designated changing areas.
Are there any nearby services or accommodations (lodging, dining, etc.)?
Our Inn can accommodate 20 persons. Other services are available at the town centre located approximately 2 km away. Services include banking machines, convenience stores, etc.
What are your accepted methods of payment?
Cash.
Do we get to win any prizes?
A day filled with adventure and fun is a reward unto itself!
Is there running water and toilets?
Yes. Water is available at our reception area and we have installed toilets on the site.
If I choose not to be on a team, may I tag along?
For safety reasons, only team participants are allowed on the adventure trails.
Do you have any good advice when it comes to those inevitable mud stains?
Use "Tide" in hot water then wash once again in cold water. You may also try using "Lestoil" (follow the instructions on the back of the bottle). Finally, another solution: throw out your stained clothes!
Can I stay on the premises at the end of the day?
No. All good things must come to an end. The only persons allowed to stay are guests who have reservations at our Inn.
What should I pack before heading off to Fort Débrouillard?
A complete change of clothes (including shoes and underwear), a towel, a facecloth, soap and a plastic bag to store your wet and soiled clothes.
Reservations required
686, chemin Shefford Directions format PDF
Roxton Falls (Québec ) J0H 1E0
Tel. : 450 548-5655
Email : This email address is being protected from spambots. You need JavaScript enabled to view it.
The Original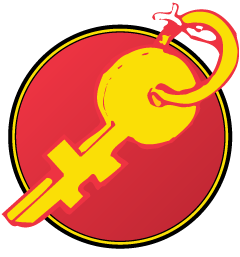 Fort Débrouillard is a multidisciplinary outdoor adventure centre. It features a series of challenging adventure trails, testing the mental and physical abilities of participants. Courage, initiative, the desire to surpass oneself, team spirit and resourcefulness all come into play.
55,00 $ (per person,taxes included)
For participants 7 years old and over, this event-filled adventure trail lasts 6 hours. Teams are made up of 5 or 6 people. Each team participates in roughly 10 events throughout the day. As opposed to the Rover adventure trail, teams are not escorted by Fort Débrouillard staff from one event to the next. Teams must report to the dispatch table to be assigned an event at a specific location. Traveling to each event is done autonomously. A Fort Débrouillard staff member is, however, present at each event site for instructions and safety.
Duration: approximately 6 h
For ages 7 and above
Outdoor laced footwear required
Required change of clothing and footwear
Players: 8 minimum
Meal not included
Teams of 5 to 6 players
Meal option
Menu #1:
11,95 $ (+tx)
Hot dog (2), coleslaw, chips, and a granola bar.
Beverages included.